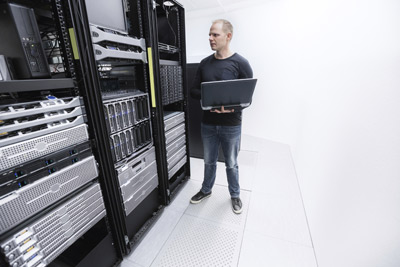 Fully Outsourced IT Management and Oversight
Many businesses consider their IT department a "necessary evil" when it comes to doing business. IT represents a fluctuating cost and uncertain performance. With the wrong people in your department, a critical IT error could cripple your entire network, grinding the gears of your business to a costly halt.
Trust the IT experts at Cybernetic with fully managed services to fully oversee your on-site or cloud-based platform and network structure.
From day-to-day support and monitoring to anti-virus, secure system backup and recovery, Cybernetic handles every aspect of your IT at a fixed cost, affordable for businesses of any size. Cybernetic's technicians are available to work on-site as needed and will represent your brand to customers and other outside interests.
Engagement in Your Systems and Vision for the Future
When you bring in Cybernetic, our first job is to learn what your optimal IT needs are and create a plan to quickly and efficiently implement needed changes. We will also develop a long-term management strategy to keep your system running at its peak.
Cybernetic's IT consultants provide periodic status reports detailing work done and tracking your changing network needs. This proactive approach anticipates future problems. Together, we will develop a joint strategy to prevent hiccups from becoming network disasters.
Stop getting bogged down managing your IT and get back to running your business. Let Cybernetic put you in control of your network.