Prevent IT Network Problems with Proactive Managed Services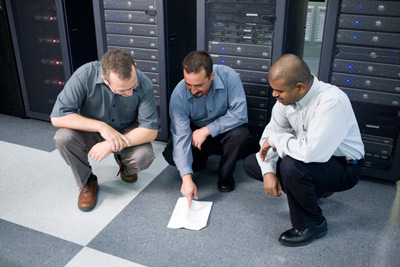 Many businesses first become aware of an IT problem when their network crashes. Responding to the disaster is a long, costly process. Instead of waiting for the situation to spiral out of control before calling for help, many companies sign up for Cybernetic's proactive managed services. Our elite team of IT experts monitors and resolves system errors before they interrupt your day to day operations. Proactive managed services are a multi-pronged approach to keeping your network running by taking care of your entire IT infrastructure.
Proactive Server and Workstation Monitoring
Our IT professionals monitor your servers to make sure you don't experience sudden performance drops or interruptions. As patches and updates are released, we'll make sure your system is fully up-to-date. Cybernetic even performs routine maintenance to prevent any problems from flaring up. Workstations also benefit from proactive OS patching, scheduled maintenance routines and availability monitoring.
IT System Backup, Support and Security
When Cybernetic provides proactive managed services, we take care of more than just your hardware. We'll deploy and configure your backup systems. Once your backup is established, our IT consultants will monitor and update it to make sure it's ready if and when you need it. Anti-spam and anti-virus monitoring keeps your network safe. If there is an infection, you can count on Cybernetic's IT experts to clean your system before the virus spreads. With our quarterly network reviews, you'll know how your infrastructure is doing.
Proactive Managed Services Benefits
Outsourcing your IT management to Cybernetic carries a host of benefits. You can count on major improvements to your system's overall performance and reliability. Our fixed-cost service model stabilizes your IT budget. Paying for managed services means your money goes to making your system better instead of constantly troubleshooting problems. Less down time and higher productivity will make your business run better and let you focus on increasing your bottom line. Sign up for Cybernetic's proactive managed services and get ready for cost saving, productivity increasing IT services.