IT Consultants Let You Focus on Your Business, not Infrastructure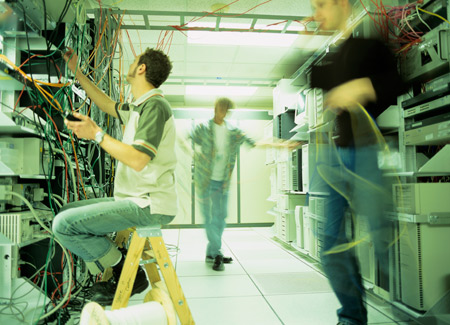 Cybernetic's business is letting you focus on your business. For most companies, IT systems are a means, not an end. The less time you have to worry about the day-to-day operations of your IT staff, the more time you have to focus on growing your business.
You didn't start your company because you wanted manage network resources every day. We did.
Our philosophy revolves around lowering your total cost of ownership by providing affordable, professional IT service and support at consistent, affordable rates.
Fixed costs let you shape a clearer picture of your business's outlook. Outsourcing some or all of your IT services and infrastructure to Cybernetic lets you fix your IT costs at a steady rate. With scalable, cloud computing architecture, you only pay for the services you use and expanding your network capacity is as simple as giving us a call.
Managed Services Free You from Day to Day Systems Maintenance
Whether or not Cybernetic set up your business's technology infrastructure, we can free you from performing routine maintenance and preventing problems. Our managed services include everything from anti-virus and anti-malware protection to system monitoring and proactive anticipation of future issues.
Focus on what your business does, not keeping its technology running.
Supplement or replace your IT department with Cybernetic's elite team and you can count on a stable IT infrastructure at all times. Our team of Engineers, Senior Engineers and Architect/Engineers have the knowledge and experience to streamline your information technology systems at a low, fixed cost. Your technology should help you achieve your business goals, not distract from them. Sign up for Cybernetic's managed services and make your IT work for you.
IT Consulting Done Right
Cybernetic builds client relationships on integrity and trust by delivering exactly what we promise. We will help you make informed decisions about your business technology needs and then implement them quickly and cost-effectively. Your business's IT infrastructure will run at peak efficiency thanks to our accurate diagnosis and honest approach.
Cybernetic keeps you in the loop throughout your IT management project. We deliver on our promises with expert guidance built upon years of real-world IT support and development experience.
When you're ready to get back to managing your business, and not your IT resources, contact the IT industry leaders at Cybernetic.
Contact the business IT consultants at Cybernetic for the best technology services at affordable prices.